LAV III Monument Program FAQs
Listen and learn about Canada Company and the LAV III Monument Program.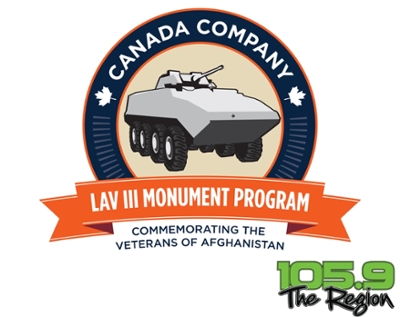 What do community applicants need to know?
This is a community funded program. Communities will require land use authorization at a suitable location. Communities will be responsible for the monuments transportation (from London, Ontario) and the installation of a concrete support pad built to the specifications provided by Canada Company. Communities must register and comply with the programs government regulations and agree to maintain the monument and incorporate it into community remembrance or educational programs. Applicants are emailed a confirmation receipt followed with an update on their approval status after 90 days. The program offers approved communities' guidance and support throughout the process.
How does a Community request a LAV III Monument?
Interested communities are invited to complete an online application here.
Who decides whether a Community qualifies to receive a monument?
The LAV III Monument Selection Committee reviews all qualified applications and awards monuments to communities who satisfy the criteria. Monuments will be awarded while supplies last. The Committee is chaired by Major General (ret'd) David Fraser, a former Canadian Commander of Afghanistan South in 2006 along with other Afghanistan veterans.
What is a LAV III?
A LAV III is a Light Armoured Vehicle made of steel, supported by an 8-wheel drive suspension and powered by a 6-cylinder 350 horsepower diesel engine. It can weigh as much as 16,000 kg, carry various weapons, hold up to 10 passengers and reach speeds of 100 km/h.
What is a LAV III Monument?
A LAV III Monument is a permanent community symbol of remembrance which pays tribute to our Canadian Armed Forces who served and sacrificed in Afghanistan from 2001-2014. It is constructed from previously used LAV III hulls and remnant parts which have been decommission by the government. They are actual-size, look real but are not functional.
How is a LAV III Monument constructed?
A decommissioned LAV III is stripped of its weaponry, engine, steering, and communications and lighting systems. Next the unit is sandblasted, has all access areas welded shut then remounted to its eight tire assembly and finally repainted.
How much does a LAV III monument cost?
Each monument includes a commemorate plaque and will cost $17,500, plus applicable sales tax. Note that the original cost of an operational LAV III ranged from $ 1-4 Million depending upon the configuration.
Where can I view a LAV III in operation?
The website YouTube offers a feature overview and demonstration of the LAV III at the web link below.
https://www.youtube.com/watch?v=bNyXjDFXioQ
Who makes the LAV III?
The LAV III is made by General Dynamics Land Systems Canada in London, Ontario, Canada.
How old are the current monuments in communities throughout Canada?
The majority of Canadian military monuments date back to the First and Second World Wars and they are between 70 and 100 years old.
How many Canadian troops served in Afghanistan?
There were approximately 40,000 Canadian troops deployed from 2001-2014 and 158 gave the ultimate sacrifice for their country.
Are there any known government programs that could financially assist an applying community?
Explore the following funding programs which may assist with your community cost.
Veterans Affairs Canada:
http://www.veterans.gc.ca/eng/remembrance/funding-programs/commemorative-partnership/community-war-memorial
Where can I get more information about the program?
If you still have questions you can email them directly to lav@canadacompany.ca
Who is Canada Company?
Canada Company is a charitable, non-partisan organization that serves to build the bridge between business and community leaders and the Canadian Military. Our goal is to ensure that the men and women in our Canadian Armed Forces receive the widest support, care and recognition that they deserve.